Time flies. This weekend (Nov. 14, to be exact) is the second anniversary of the release of our second album, Dark Before the Light. To celebrate, we've got some great deals which I'll detail below. But before you jump to the bottom, let me tell you a little story about DBTL.
When Mike, Peter, and I "got the band back together" in summer 2017 to begin writing and recording DBTL after a nearly 10-year hiatus, we really didn't have any plan beyond making the album. From the start, it was meant to be a tribute to my late brother-in-law, Pat Clarke, who died of brain cancer in Nov. 2016 at age 44. I like to think that Pat would've really liked this album, which is dedicated to him.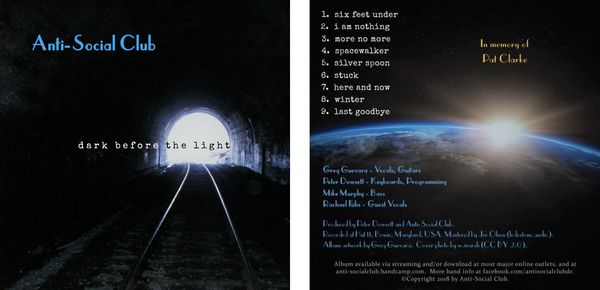 Front and back cover of our album Dark Before the Light, released Nov. 14, 2018.
We set a goal of releasing the album to coincide with the 10th anniversary of the release of our first album, Otherwise Bleak eXistence. And we figured for the fun of it we'd also do an album release party, playing our first show in 10 years -- since our last gig was the OBX release party in Nov. 2008. With that aim in mind, we began work in earnest on writing and recording the songs that would ultimately make up DBTL. I had written some snippets of lyrics and we had on rare occasion dabbled in bits and pieces of the music in the months and years prior, but it was not even close to half formed when we went into the studio. Pat's death, and the need to respond to it in a creative way, put a sense of sacred urgency into completing this work.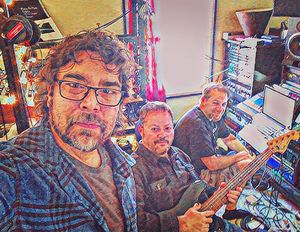 A-SC returns to the studio in fall 2017 to begin recording DBTL. From left to right: Greg, Mike, and Peter.
Along the way, we stumbled upon a hidden gem. As we had begun developing the songs, I had in the back of my mind that it might be nice for my daughter (and Pat's niece) Rachael to sing backing vocals on one of the tracks. Rachael, who was 19 at the time, had had years of training and experience in her middle school and high school chorus, and in high school had blossomed into one of the premier singers in her class, ultimately being selected among a small handful to represent her school in district-wide and even state-wide chorus events year after year. She also performed with her school's elite singing group, the madrigals, and was given the prestigious Most Valuable Madrigal award to close out her senior year. So I knew she could sing. (I also knew she had good taste in music, which was also promising.)
When I brought up the idea of bringing in Rachael to my bandmates, Peter and Mike agreed to give it a whirl. When she came into the studio and did her thing, we immediately recognized that her voice was not only beautiful, but was perfect for the music we were creating. It added a whole new layer of texture and depth and feeling, and we quickly decided to expand her role in the album, ultimately having her sing on five of DBTL's nine songs (including lead vocal on the closing track, "Last Goodbye".) While she was listed as a "guest vocalist" for DBTL, her voice (and later her keyboard playing skills) became integral to our music, and we soon made her a permanent member of our lineup.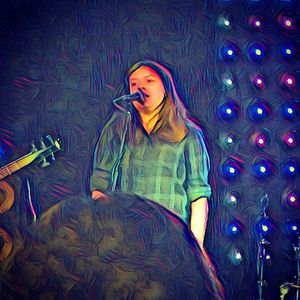 Bringing in Rachael on vocals (and later on keyboards) was one of our best moves yet.
In any case, against all odds -- and with an exquisite final polish from our mastering engineer Jer Olsen (at https://wavemechanic.net/), we completed the album right on deadline, and held a release party at the famous Jammin Java in Vienna, VA to celebrate. After brushing off as much rust as we could in rehearsals, we jumped on stage and the rest is history. We were proud of what we accomplished: In addition to reviving A-SC and playing our first live set in 10 years, through ticket and merch sales we raised over $600 for St. Jude's Children's Research Hospital in Pat's honor (it was his favorite charity).
On stage at Jammin Java for the DBTL release party, Nov. 17, 2018.
At that point, we thought we might be finished -- you know, "Mission Accomplished" and all that. But the thing is, we were having too much fun and people seemed to like our music. So while we returned to a less intense schedule (given that we have families, day jobs, etc.), we decided to keep forging ahead where we could, playing occasional live shows, releasing new material, building our web presence, and working on ideas for future development. Even with my and Rachael's recent move from the DC area to Reno, NV, and with additional changes coming soon (a topic for a future blog post!), we've managed to keep in touch and to continue plotting and scheming from afar. So stay tuned for more A-SC!
IN THE MEANTIME -- we wanted to celebrate the 2nd anniversary of DBTL (as well as the 12th anniversary of OBX) in part by offering a sweet deal for you, our fans and friends. After all, none of this would have been possible without your support! So, to say hooray and thanks, for a limited time we are offering DEEP discounts on our albums and merch! Specifically, starting today (11/13/20) and continuing through Thanksgiving weekend at our Bandcamp site, you can get your own copy of DBTL (digital download and/or CD) and/or OBX for 50% off! That's right, your own personal copy of our music -- "free" artist-killing streaming services be damned! -- for a ridiculously low price! AND, to top it off, we've knocked 25% off our already low t-shirt prices, so you can get your very own high-quality Anti-Social Club tee while supplies last for the incredible price of just $9 plus shipping! 

Quality wallet-friendly music and merch await at the A-SC Bandcamp page!
Head on over to our Bandcamp site to see it all for yourself at this link here: 
https://anti-socialclub.bandcamp.com/  
You can also go straight to our t-shirts and CDs (by the way, everyone who orders these also gets a free set of stickers!) at this link here: 
https://anti-socialclub.bandcamp.com/merch
Thanks so much to everyone who has supported us along the way. We truly hope that you've gotten something out of our music, and that you will continue to do so in the months and years to come. We'll leave the light on for ya.
Much love,
Greg Guevara