Hey, Greg here. As you may have heard, this weekend we released a new single, Empty (Fulfilled). For those who like to dive a little deeper into the music, I wanted to share the story behind the song.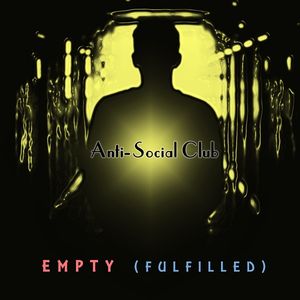 Cover artwork (by Greg Guevara) for the new single.
Empty (Fulfilled) is the culmination of a long musical journey. I wrote the lyrics and basic melody around the time Anti-Social Club was born (c. 2000-2001), sitting on my back porch one chilly autumn evening trying to make peace with the inevitability of death. (The lyrics, as you'll find below, are unabashedly focused on that seemingly morbid but ultimately liberating theme.)
Fast forward perhaps a few weeks. In one of our first-ever studio sessions (back then the band was just me, Peter, and Mike -- we had coalesced out of previous collaboration on other projects), Peter was playing some instrumental synth demos he had created, including one called Running Out of Time. This caught my ear, and I began playing Empty on guitar which somehow meshed perfectly with Peter's track -- even though we had never heard each other's parts before then. It was a mystical moment -- we had essentially co-written a piece of music using some form of hidden telepathy! And from there, the three of us were able to quickly create a somewhat finished version of the song.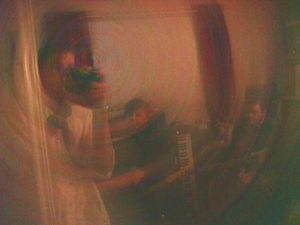 Probably the first-ever selfie of Anti-Social Club, taken at Peter's apartment c. 2000-2001. Empty was born right around the same time, in that same room.
Fast forward to 2008, and Empty was one of the tracks going onto our long-awaited debut album, Otherwise Bleak eXistence (OBX). We had been working on the album for quite some time, and had also added a live drummer to the mix. However, due to various twists and turns along the way (including a car accident that nearly took Peter's life), the version of Empty that ended up on OBX -- while generally well received -- was pretty far from our original vision for the song. 
Fast forward to 2018, and after a lengthy hiatus to work on other projects, A-SC had reunited (minus our drummer) to release our long-awaited second album, Dark Before the Light. This time, along with previous instrumentation we brought in Peter's highly refined drum programming as well as production skills, and also brought in my now-adult daughter Rachael on backing vocals. Coming out of those sessions and hearing the finished product, we realized that our music had taken a quantum leap forward and were inspired to revisit some of our earlier work.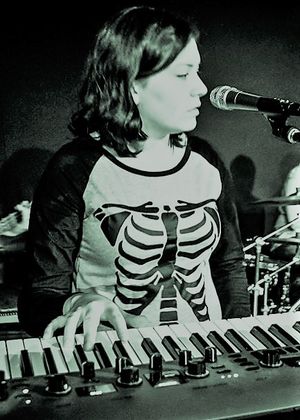 Bringing in Rachael on backing vocals (and later on supporting synths) has added a whole new layer of awesome to A-SC's music.
After successfully re-imagining one of our OBX tunes, Purgatory, with the release of Purgatory (Resurrected) in October 2019, we turned our attention to Empty. Featuring entirely new electronic percussion (i.e. Peter's exquisite programming, which intentionally hearkens back to the original demos from ~2001); greatly enhanced vocals; fully refined synths, guitars, and bass; Peter's production wizardry, and top-notch mastering from Jer Olsen (wavemechanic.net); our revitalized song Empty (Fulfilled) captures both the primordial and cutting-edge elements of Anti-Social Club at its finest.
We're pretty proud of this one, and we hope you like it too. Check it out on your platform of choice below.
- Greg Guevara
Empty
That which you fear the most is death 
You don't know when or where or how, but it's coming 
Like a freight train horn in the night it'll pull you away 
And all the happiest times and the best things just fade 
I watch the trees as they sway in the breeze and the leaves start falling 
I sit helplessly as the air turns cold and the snow starts falling 
And I can't go back inside 
I'm in the cold and black but it's all right 
That's the way it starts and the way it ends 
And everything in between is just an illusion 
I get caught in the rain and I'm washed into a chasm 
It's so empty inside, like a teardrop that's run dry 
There's a pain in his chest and a weakness in her knees 
There's a cancer inside and it's making it hard to breathe 
And the sun and the moon and the forests and mountains and oceans 
All the people and places and sights and smells and sounds 
They disappear as fast as they came 
And the words you hear don't mean a thing 
And I can't feel my limbs any more 
And my heart and soul are slowing down 
Today is the first day of the rest of my life