Dear A-SC family, friends, and fans,
Greg here. As you probably know (and if you didn't, you do now!), my day job has been relocated and thus my wife Karen and I are moving -- along with our daughter and A-SC vocalist / keyboardist extraordinaire Rachael -- from Springfield, Virginia to Reno, Nevada. We depart via RV / SUV caravan on Monday, July 6, and arrive in Reno about a week later. (The RV allows us to be largely self-sufficient throughout the trip, aside from the occasional stop for gas, thus limiting our risk of exposure to COVID-19 and also making things somewhat easier for our skittish dog and cat.)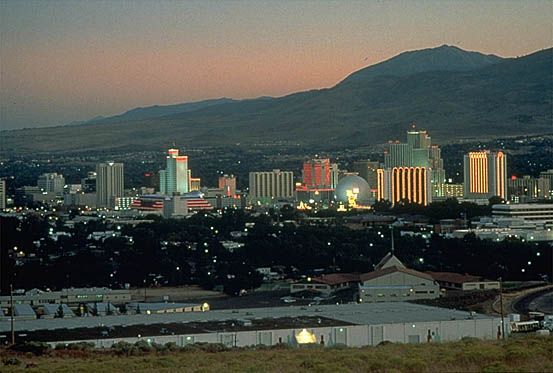 Located along the eastern edge of the Sierra Nevada mountains, Reno is known as "The Biggest Little City in the World".
After 21 years in the same house, this move will be an epic adventure for us and the start of a new chapter in our lives. While we are very much looking forward to it all, we're also really going to miss the Washington DC area which has been home to us for so long. We'll especially miss our many family members and close friends in the area, and will look back fondly on the many great memories we've made together. We'll also plan to come back to visit on occasion, and hope to see many of our peeps out in the Reno area as well.
Of course, several people have asked what this means for the band. I'm happy to report that we've talked it over and have every intention of keeping Anti-Social Club going. While geography may keep us physically apart, we have the technological capacity as well as the desire and will to keep on making A-SC music together for the long haul. We're still working out exactly what this will look like, and we recognize there will be new challenges, but we are reasonably confident that we'll be able to pick up with writing, recording, and producing new material once Rachael and I are settled in Reno. (We also just may have a few things already in the hopper -- keep your eyes and ears peeled!) The idea is that we are not splitting apart, but rather are expanding operations out west.
To our families, friends, and fans who have supported us along the way, I want to thank you from the bottom of my heart for everything you've given us over the years. Every A-SC song you streamed, every A-SC show you attended, every A-SC t-shirt you bought, every A-SC sticker you stuck on some random surface, has meant the world to us. I can only hope that our music has meant something to you as well, and that you will continue to find enjoyment in it over the coming months, years, and decades. We certainly look forward to sharing more of it with you in the not-too-distant future.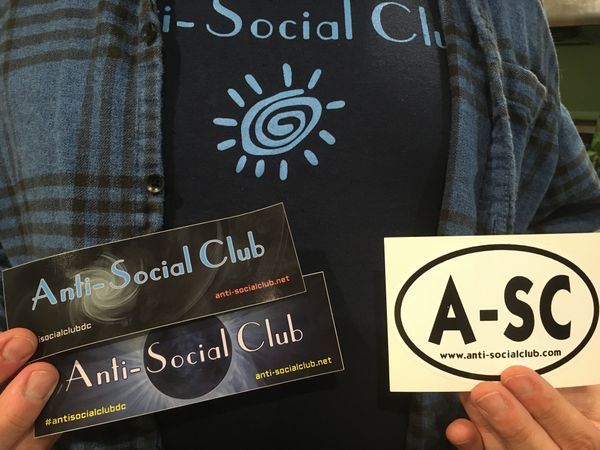 A-SC merch including CD's, downloads, t-shirts, and stickers are still available on our Bandcamp site. Pick some up today!
With that, I'd like to leave you (for now) with one of our songs. This is the final track from our 2nd album, Dark Before the Light, and is called, appropriately enough, Last Goodbye. It features Rachael on lead vocals and the lyrics are posted below. I dedicate this to all of you, and ask that you crank it up and wish us well as we embark on this next grand adventure.
Love,
Greg
Last Goodbye 
I don't want to leave but I have to go 
I've run right out of time, I've used up all my chances 
and I guess that it's best if I get moving on 
I wish I could stay for just one more night 
we could've sparked up a fire, you could've taken me higher 
I could've fallen soft and deep into your earthy eyes 
but like the stars above, like the valley below 
I'll fade into the distance, path of least resistance 
drop the weight of the world and let the water flow 
well I tried hard to quench the unquenchable thirst 
put my axe to the grind, pushed and pulled and I cried out
and felt the planet pulsing down deep in my veins 
oh how I wanted to see a bright future unfold 
with my outstretched hand I reached across the land 
and tried to sort it all into a proper place and time 
you know I don't want to leave, but if I have to go 
I'll say my last goodbye, I'll drop my bags and I'll fly 
and maybe someday I will see you on the other side 
time waits for no one 
so roll on without me 
the stars are calling 
so come on, rise up 
and break on through to the light 
I don't want to leave but I have to go 
I'll float into the distance, path of least resistance 
drop the weight of the world and leave you with this song